Welcome to my super quick alpha production tutorial for Maxwell.
Firstly, this will only give you a pure black and white alpha, with no grey areas. Compositing methods will mean a duplicate render layer for glass reflections will be required using a screen blend mode.
I've been having difficulty with alphas that aren't useable due to the time they take to solve. Opaque areas can come through with a noise pattern, which makes them semi transparent when used in PS during compositing.
Crop from a 5K alpha, rendered during a normal render with alpha pass specified. SL of main render was 18.5. Equalization of the left hand area, is to show the problem, the right hand side is the pure Maxwell alpha. This gives a semi transparent result for opaque objects, which isn't good.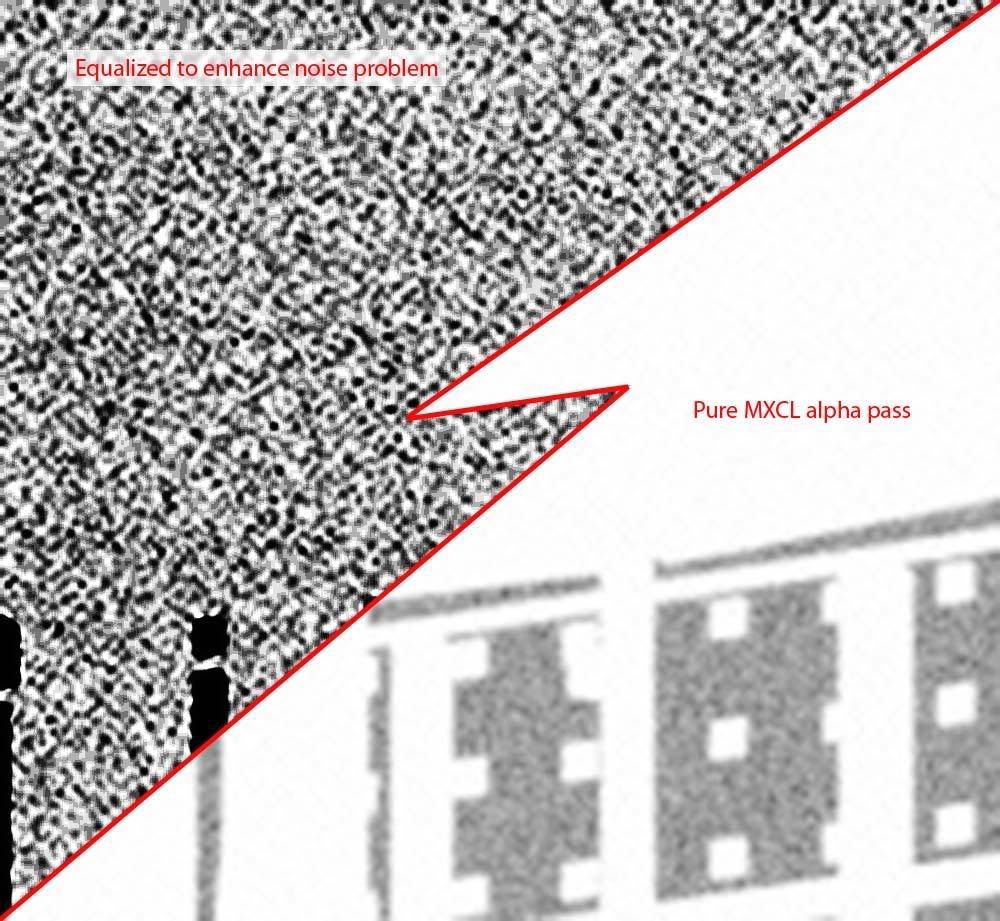 Corrected alpha created using methods set out below:-
Note:- Both images have been resized from a crop, hence blurring of edges.
So here is my method to produce really quick and accurate alphas using Maxwell.
My example is to render a 5K alpha pass, for a scene with 1.6million triangles, in approximately thirty minutes. The machine specs are:- 1x Dell Octo @1.86GHZ x 8 with 4GB RAM.
Complete your render as per usual, using a farm or single machine.
Resave a version of your MXS scene with an appropriate name change. I add Black and White, for reasons which will become apparent.
Once you have saved your scene, select all glass objects which you can see the enviroment through and hide them, or delete them from the scene.
If you run your normal render with an alpha pass specified, refer to this for the exact glass objects that will need to be hidden. Glass objects which don't have the enviroment visible through them, can have the Black hole mxm applied.
Now select all other objects in the scene which need to be opaque.
Create a new mxm called 'Black hole'. Change the 0' & 90' reflectance colours to pure black. Keep roughness and other parameters as default.
Drag and drop this mxm to the selected objects in the object list.
If you have objects with 'Triangle groups', then delete the groups so you have just one mxm for that material. If you find the mxm list is still quite full, after removing unused, check your objects for sub/multi materials.
Switch to the enviroment panel and change lighting type to skydome. Make the sky dome 255,255,255 and 50% power. Make sure the 'Use physical sun' check box is
off!
Right click the material list and 'Delete unused'. This will help speed up the render by stripping all texture maps from the scene.
Set your image output paths accordingly. Check only the 'Render' box in the 'Render channels' rollout is ticked and save the mxs.
Then start the render, either from MXST or MXCL in your usual manner.
When the render has solved enough, in my tests an sl of 8 can be sufficient, stop it and open in PS.
Invert the image and use in the same way you would use an alpha pass. (Add layer mask, paste into mask.)
To retain your reflections on glass, which will disappear due to the glass being hidden during this render pass, duplicate the render layer and use the new black and white alpha to select the window areas.
Delete the remaining area and use a Screen blending mode for the layer. Adjusting the opacity of this layer, will let you control the reflection strength.
I appreciate this is not the best method, but when you need an alpha quickly, that is correct, this method will work well.
Hope this helps,
Tim.
_________________
http://emp3d.com
-------------------------------------
Next Limit Certified Training Centre for Maxwell Render.
Maxwell Render Training & consultancy. A-Team tester.