Ok some more tests and clarification.
Test:-
Comparison:-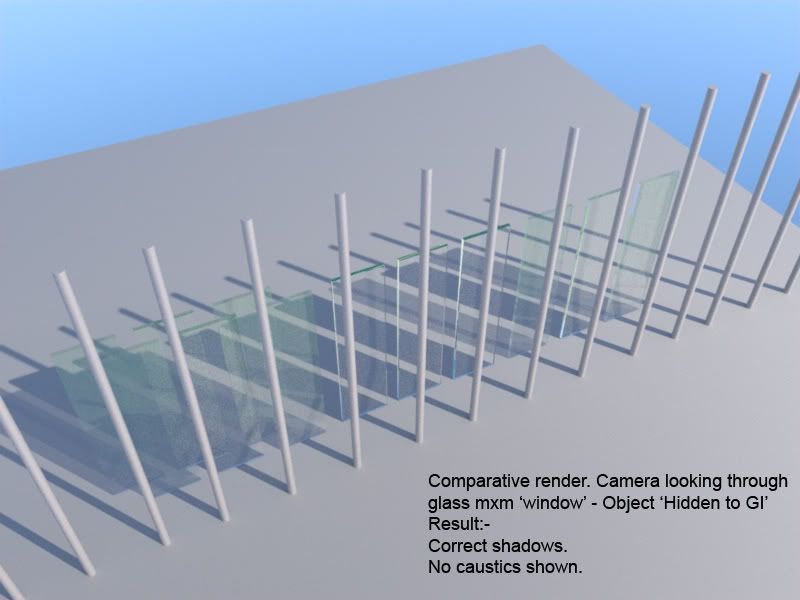 Conclusions:-
Using a camera 'window' with 'Hidden to GI' enabled, with strip all caustics from a scene.
Using a 50% Glass & AGS material, works fine for correct shadows and some refraction. (Check shadow lines running through glass and edge caustics, for refractiveness.)
Using a reduced reflective AGS & glass material, no reflective layer for AGS portion, works well but with no reflections.
More Glass % allows better refractions at the cost of incorrect shadows, in a Glass & AGS mixed mxm. Self shadows viewed through self are incorrect for increased glass %'s.
Tests runnning Glass mxm 'Hidden to GI' object, solves faster than AGS & Glass mix mxm, with 'Visible to GI' enabled.
I think user discretion and application, denotes method to be used, for optimum results.
If you want correct shadows, use 50% AGS & Glass mxm.
If you want correct sunlight, but no shadows added by the glass, use 'Hidden to GI' & Glass mxm.
I think the first image poses some real brain teasers. The areas where shadows are visible through each glass object, reveals some mad results.
4, 5 & 6 only working correctly with 1 & 2, for example.
Only thing left I think, is to show this in an actual scene representation. Will do asap.
50% Glass & AGS mxm:-
http://mxmgallery.maxwellrender.com/search.php#page=1&mode=1&id=3003&search=ellis
Tim.
_________________
http://emp3d.com
-------------------------------------
Next Limit Certified Training Centre for Maxwell Render.
Maxwell Render Training & consultancy. A-Team tester.